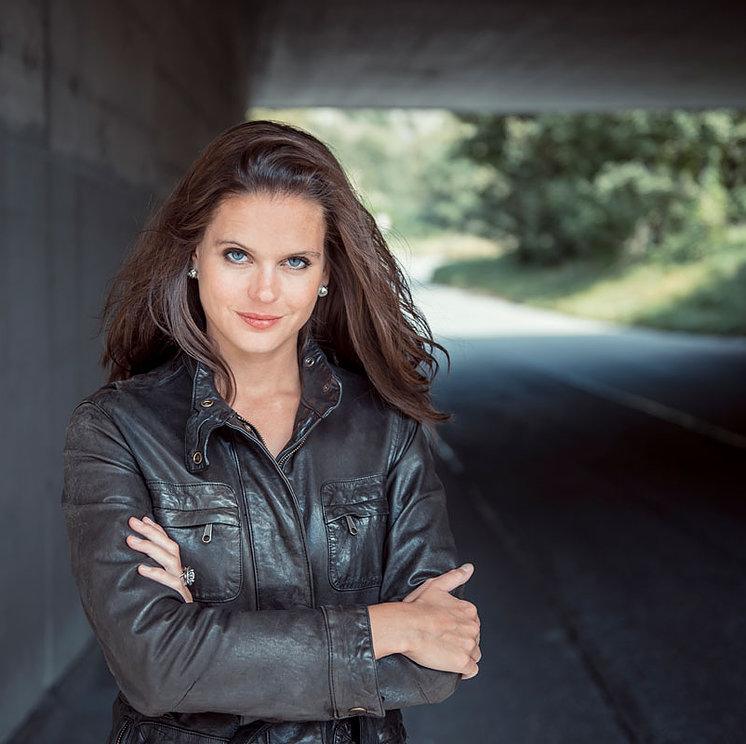 Léonie RENAUD, soprano
After graduating in piano from the class of Christian Favre at the Conservatoire of Lausanne (Switzerland), Léonie Renaud dedicates her full attention to vocal studies at Bern University of the Arts (BUA) where she receives, cum laude, in June 2011, a Master's Degree in Vocal Performance after attending the class of Janet Perry. During the season 2010-2011, she is a member of the Swiss Opera Studio in Biel. She is presently further refining her skills with Noémi Nadelmann in Zurich, Maestro Paolo Vaglieri in Milano and Nathalie Spinosi in Paris.
She is also being coached by well-known singers such as Patricia Petitbon, Marie-Ange Todorovitch, Brigitte Wohlfahrt, Renée Auphan, Yvonne Minton.
She performs regularly in recitals, or as a soloist in oratorios, in Switzerland, Italy and France.  Her repertoire stretches from Baroque to Contemporary music. She has recently recorded contemporary pieces of Swiss composers with the Ensemble Namascae, directed by William Blank.
During the Sommer Akademie of Salzburg in 2011, she performed as a soloist at the Mozarteum in pieces of Mozart and Strauss.
Léonie Renaud has worked under such conductors as Bernard Haintink, David Zinman, Facundo Agudin, Paolo Vaglieri, Philippe Bernold, Jacques Mercier, William Blank, Jacques Blanc, Michael Radulescu, David Svec, Thomas Rössner, Dieter Wagner, Jean-Michel Montornès, among others.
In January 2011, she received a special Prize of Encouragement from the City of Délémont, her birthplace.  In July 2012, she is the laureate of the Marianne and Curt Dienemann Foundation, of the Irène Dénéréaz Foundation, and of the Anne and Robert Bloch Foundation. In March 2013, Léonie Renaud earns a Special Prize at the International Competition of Spoleto (Italy).
At the opera in Metz, she plays the part of Gretel in Hansel and Gretel, directed by Benjamin Pionnier, as well as the part of the first Boy in a new production of the Magic Flute, staged by Daniel Mesguich and Directed by Jacques Mercier.
At the Toulon Opera, she embodies Naiade in Ariane a Naxos, staged by Mireille Larroche and directed by Rani Calderon.
At the Opera in Marseilles and in Avignon, she performs in a recital in a cabaret programme including works of Menotti and Bernstein.
She plays "La Môme Fromage" in a contemporary opera by Jorge Zulueta, entitled "A Tango for Mr. Toulouse-Lautrec."  She was Nireno, in Giulio Cesare, conducted by Facundo Agudin and directed by Bruno Ravella.  She sung Blonchen with the opera of Avignon, conducted by Philippe Bernold, in Mozart's Abduction from the Seraglio.  During a festival in Basel, she was the first Lady in the Magic Flute directed by Dieter Wagner.
She participated in a new production of "Phiphi" by Henri Christiné, at the Opera of Lausanne, during a tour in France and Switzerland directed by Jacques Blanc.
She will interpret the Stabat Mater of Rossini in Novarra (Italy) as well as in Switzerland, with Dieter Wagner conducting.  She is invited to perform as soprano solo at the Opera of Marseilles, in Vivaldi's "Gloria," and to perform in this same capacity in a creation of the "Mosé Oratorio" of Giovanni Paolo Colonna, with the "Concerto Soave" Baroque Music Ensemble directed by Jean-Marc Aymes.  She will perform in Patagonia (Argentina) in "La Traviata" and will sing pieces by Mozart with the Sinfonica Patagonia, conducted by Facundo Agudin.
She has been invited by the Schaffhauser Sinfonietta to sing melodies of Strauss, Donizetti and Lehar, during their New Year's Concerts.
Next season, she will be "Blonchen" at the Theatre-Opera of Metz. She will also take part in the creation of the new opera "Romulus der Grosse," of Andreas Pflueger, at the "Théâtre du passage" in Neuchâtel.