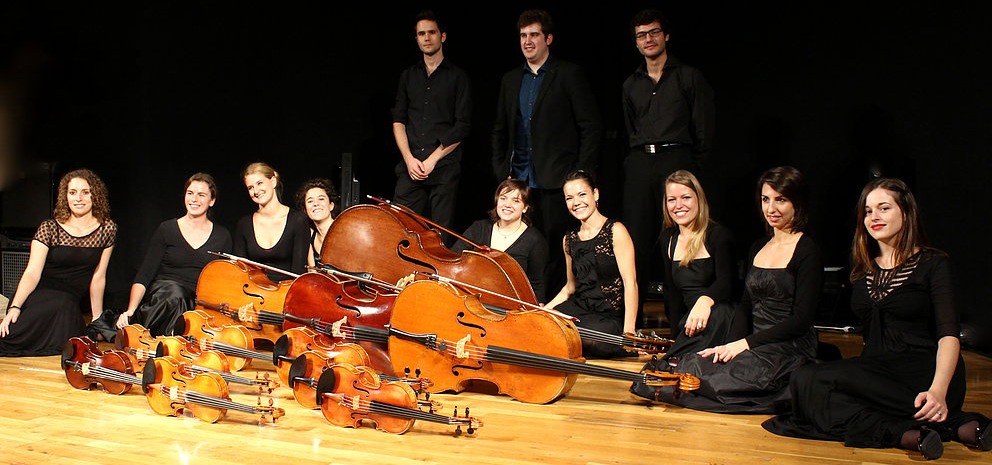 Assembled as a result of a musical encounter on the shores of Lake Geneva in the autumn of 2012, the Camerata du Léman brings together musicians of various nationalities, all trained in the best conservatories of Switzerland and of Europe.
Consisting of fifteen string musicians, the Camerata du Léman's draws its strength from its "variable geometry composition," enabling it to evolve from string quartet to chamber orchestra.
From its inception, the Camerata du Léman has been received enthusiastically by the public and critics alike, all of whom were struck by the deep understanding prevailing among the musicians. This results from their decision to play without a Chef, a move conducive to greater interaction among themselves and enhanced expressiveness and musical sensitivity.
The Camerata du Léman is building its repertoire and its professional activities from works that date back from the Baroque period to XXIst century music.
Stimulated by new projects, the young soloists try out new forms of music and artistic expressions, such as vocal music and ballet. For instance, the Camerata has presented, in May 2013, "A Midsummer Night's Dream" of F. Mendelssohn, at the Bâtiment des Forces Motrices in Geneva, in collaboration with the Studio Flay Ballet, and directed by B. Willmann.
In the summer of 2013, the Camerata was invited to perform at the 40th Anniversary of the Festival Pontino de Sermoneta (Italy) with soloists Fabrizio von Arx and Franco Petracchi.
As of autumn 2014, the Camerata is invited in residence, for three years, at the Musicales de Compesières.  It will thus be able to perform regularly and to take advantage of the tours that will be set up over the years.
During the "Fête de la Musique" 2014, the Camerata was elected "Very favorite" of the City of Geneva.